Posted on Mar 5, 2014 in
Homepage Stories
,
KMOM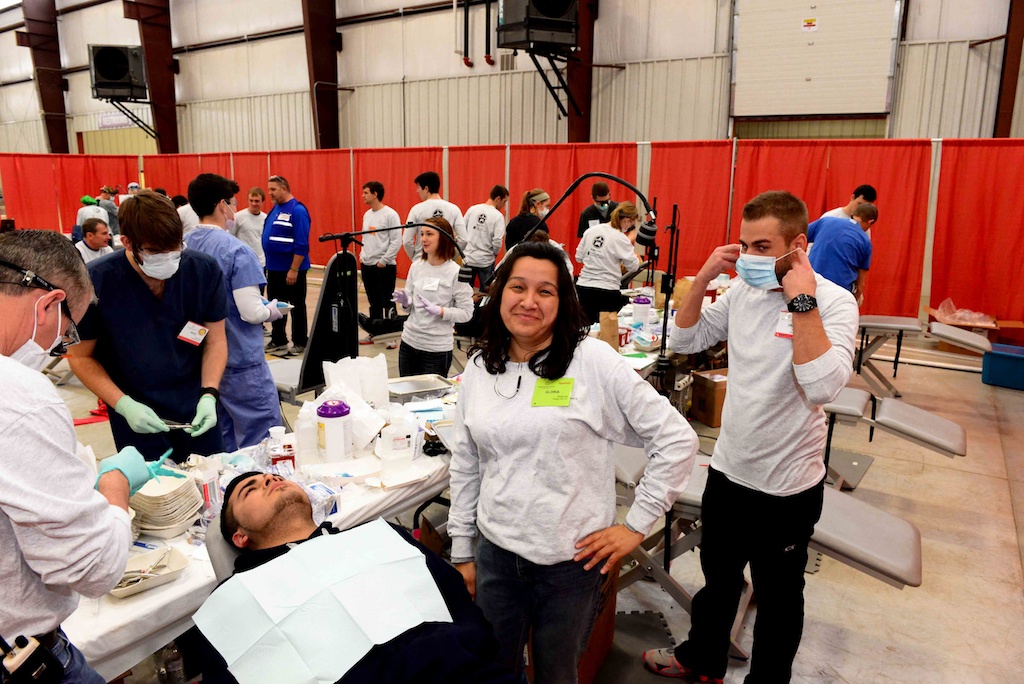 Story by Greg Hill and Megan Foreman
Photos by Byrle Gross
There were several things in agreement through the weekend.  The Western State Bank Expo Center was an amazing venue for KMOM, the community of Dodge City stepped up and put forth an amazing effort to support the Kansas Mission of Mercy, and lastly, that the weather Saturday was horrendous.
Saturday's frigid weather, accompanied with snow, ice and heavy winds, forced the clinic to effectively close hours earlier than usual so volunteers could safely travel home before a major winter storm came through on Sunday.  By 6:00 PM on Saturday, organizers had torn down the clinic, something that doesn't normally happen until Sunday afternoon.
Regardless, more than $800,000 of free dental services had been delivered at the Kansas Mission of Mercy dental clinic in less than two days.   Since the KMOM progam began in 2003, 24,150 patients have received nearly $13 million in free dental care.
"I think the patients who came to the clinic were very happy with the care they received here this weekend," said Dr. Richard McFadden, co-chair of the Kansas Mission of Mercy clinic in Dodge City.  "We kept hearing throughout the weekend how great the facility was and how happy the volunteers were with the community.  We did have to rework the clinic on Saturday due to the weather."
The first patient of the clinic arrived on Thursday at 4:00 PM.  Darci Burkes of Coldwater, KS, met her two friends in nearby Protection and caravanned north to the Western State Bank Expo Center in Dodge City.  When they arrived at 4:00 PM on Thursday, they started the line that would continue to grow throughout the night.
"I think it's awesome they do this for people who cannot afford dental care," said Burkes.  "Something like this means a lot to us."
Burkes and her friend Sharron Lee are both cashiers.
"Healthy people make more productive people," Lee said.  "We are in the public eye all the time."
Burkes last visit to the dentist was in 2011 when she had a tooth extracted.  She was hoping to have teeth extracted and her two front teeth restored.  But with Medicaid coverage, the services she needs are not covered she says, and with her job, it's difficult to take time off.
"I am very self conscious about my teeth," Burkes said as her eyes began to tear.   "I would say thank  you to the volunteers.  If I could give everyone a hug, I would."
Many patients gave thanks to volunteers through social media.
"I want to Thank You from the bottom of our hearts for the compassion and fun you made of the Dodge City clinic," wrote a woman identified as Tami.  Cindy Frasor Harper wrote "This is a wonderful project for those of us that can't afford the dental work we need.  All you volunteers deserve a medal!"  Lori, who has been to several KMOM projects said, "I know we have to get here by midnight to get in. I've learned! But we don't mind the wait at all. This is our family's adventure for the year." Lori credited the KMOM volunteers for making her experience so pleasant.  Everyone is so nice and they make it fun—the kids aren't scared. It's a God-send."
Thousands of volunteers and followers also visited the KDCF Facebook and Twitter pages duriung the clinic and helped share the success and efforts made by dental professionals.
Jessica Honse, Wichita, was waiting to collect her fiancée, 33 year-old Shannon Hallowell, who was in oral surgery to remove all of his remaining teeth.
"We're doing this in phases," Honse said.  "He can live without teeth for a while. I'm just so happy he'll be out of pain."
Oral surgeons quoted them $8,000 to $10,000 for the services he received for free at KMOM. Honse was thrilled, both for the care and the fact that a recent infection won't threaten her fiancées health any more. Hallowell spent the last few weeks taking multiple courses of heavy antibiotics to prevent the oral infection in his sinuses from spreading further.
KMOM volunteers referred Honse and Hallowell to a Wichita clinic for affordable dentures.  "I called my mother-in-law and told her that the KMOM people told us we could get [Hallowell] dentures for $500. I told her I can use the $200 in my bank account—I think I have enough  to feed the kids for the week—she said she could see what they could do about the rest of the money."
Honse said she called her children, ages five and six, who were excited to hear that their father's teeth were removed. "They are so excited for Daddy to be nice again," she said.
Dr. Dede Behrens, who practices in Kansas City, saw two patients before dawn on Friday morning. One was a seventeen year old who had never before been to a dentist, She received three fillings and had a another tooth, so decayed it was bleeding from the inside, removed.
"She actually looked relieved," Behrens said.  "She was happy to finally get rid of a tooth that had been giving her pain forever."
A second patient, a fifteen-year-old boy, had a broken front tooth from a fight at school.
"We made him handsome again," she said. "That's the easy part!"
Organizers raised $160,000 to support the project, which does not include thousands of in-kind donations given locally.
The next Kansas Mission of Mercy has been scheduled for February 13-14, 2015 in Salina, KS.